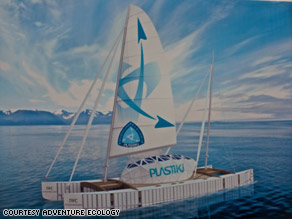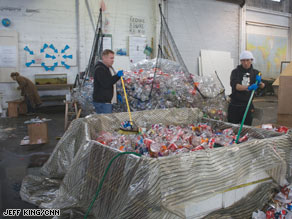 By Brandon Griggs and Jeff King CNN
SAN FRANCISCO, California (CNN) -- Imagine collecting thousands of empty plastic bottles, lashing them together to make a boat and sailing the thing from California to Australia, a journey of 11,000 miles (17,700 km) through treacherous seas.
This 60-foot sailboat, the Plastiki, is being built from more than 12,000 recycled plastic bottles.
You'd have to be crazy, or trying to make a point. David de Rothschild is trying to make a point.
De Rothschild hopes his one-of-a-kind vessel, now being built on a San Francisco pier, will boost recycling of plastic bottles, which he says are a symbol of global waste. Except for the masts, which are metal, everything on the 60-foot catamaran is made from recycled plastic.

"It's all sail power," he said. "The idea is to put no kind of pollution back into the atmosphere, or into our oceans for that matter, so everything on the boat will be composted. Everything will be recycled. Even the vessel is going to end up being recycled when we finish."

De Rothschild's vessel, scheduled to set sail from San Francisco in April, is called the Plastiki. Its name is an homage of sorts to Thor Heyerdahl, the fabled Norwegian explorer who in 1947 sailed 4,300 miles across the Pacific on the Kon-Tiki, a raft made from balsa wood.
De Rothschild is something of an adventurer himself. The scion of a wealthy British banking family, he is one of only several dozen people to traverse both the Arctic and Antarctic ice caps. In 2005 he founded Adventure Ecology, an organization that uses field expeditions to call attention to environmental issues.
Watch how the boat is constructed »